After listening to serveral people in the business community that needed someone to provide consistent and quality computer solutions, the owners of NetTech PC, Inc. decided to step into this field. Thus in November of 2001 NetTech PC, Inc. was born.
NetTech PC features an experienced staff of highly knowledgeable network specialists, programmers, educators, technicians and sales people. Our company has experience from small to large businesses and welcomes the individual home customer as well.
NetTech PC, Inc. is a locally owned and operated corporation whose owners are dedicated to providing Panama City and the surrounding areas with the best possible total computer and network solutions. The owners strive for quality, excellence, and customer satisfaction. Give us a call and a chance and we know you will be impressed.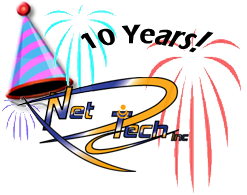 This year NetTech PC will be celebrating its 10 year anniversary. NetTech PC has been offering quality computer service to the Bay County area from 2001 to 2011, and will continue to serve you with the services we provide.